Founder Jade Hermann, named 2022 Women Entrepreneur of the Year by BC Food and Beverage, says her goal is to provide options for everyone — even picky eaters.
You can't taste the difference, but you can definitely taste the success of Jade Hermann's alternative yogurt.
So much so that the Coquitlam businessman has twice received provincial recognition for her efforts to create an environmentally and economically friendly product that everyone can enjoy.
Especially those that may not go directly into natural or plant parts.
Herman and Yugu! Double-winner at the 2022 BC Food and Drink Awards on November 3rd for Women Entrepreneur of the Year and Emerging Business of the Year.
In 2017, Herman was living a vegan lifestyle, and to offset the branding on the shelves at the time, she concocted what she thought was a "better way" to make a delicious non-dairy yogurt.
"I lived in France for a year and ate really decadent creamy yogurt. It was really my inspiration because I wanted to do basically the same thing, but completely plant-based," she explained in an interview Tri-Cities News.
"So that's what Yoggu! is really about. It's made with a small amount of fermented ingredients… We use traditional techniques to create a very rich and creamy yoghurt."
Fast forward to March 2022, and in the wake of the COVID-19 pandemic, the 29-year-old has his alternative yogurt stocked on shelves across the country after searching for a place to operate and manufacture.
The product is produced, fermented, packaged and shipped at its 12,500-square-foot facility in the Coquitlam Industrial Estate.
"The response has been good," Herman said, adding that she's learned that alt-yogurt consumers have compromised in recent years.
"Plant-based options aren't very tasty. So when we came out, it was great to see that our products had such a big impact on the lives of so many people who never really thought they would be able to taste" again It's thick, creamy yogurt. So, being able to produce a product like this is really positive. "
How does it taste?
The journalist, who admittedly doesn't buy plant-based foods, thought I had a chance to try Hermann's yogurt during a visit to Yoggu!'s factory on Wednesday (Nov. 9).
Its creamy texture, coupled with the sweetness of raspberries, is a delicious, refreshing treat, and certainly worth a try if you like coconut.
Guests in attendance included BC Agriculture Minister Lana Popham, as well as BC Food and Beverage's James Donaldson (CEO) and Alisa Hutton (COO), who agreed that alt-yogurt was something for all taste buds.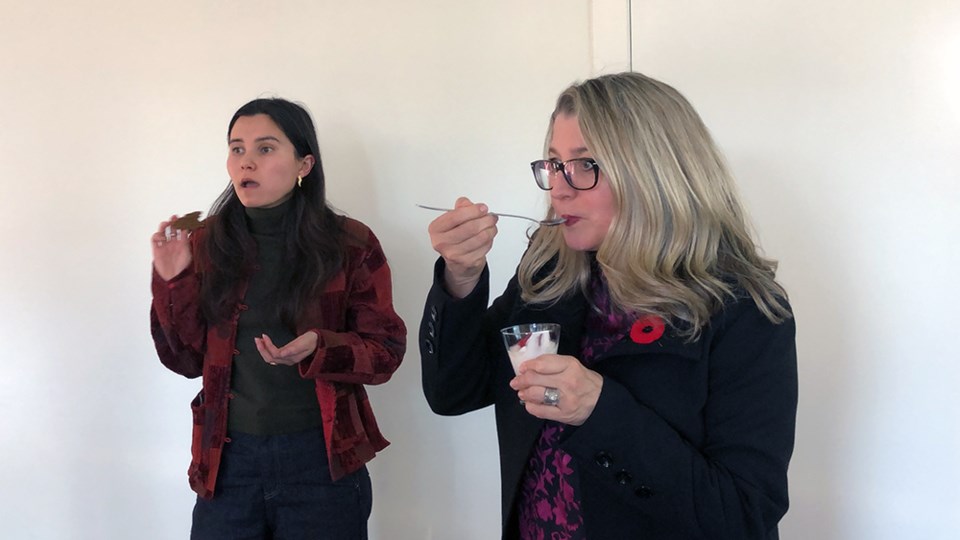 And, even better, Herman explains that the coconut cream comes from a fair trade supplier in Sri Lanka.
"We only source organic coconut cream, which is a major component of our product. And because we ferment, that's how you get all the good probiotics, we can make sure it's a live probiotic. When the product hits the shelves Finish."
Yugu! Available on local shelves in four flavors — original, vanilla, strawberry and mango — Herman says you can use just about anything to satisfy your craving.
But most importantly, she says her business is working to provide richer alternatives to big-brand yogurt, despite the rising cost of living and pressure from consumers at grocery stores.
"There are definitely challenges in the economy and the transition that's going on right now. And, you know, for us, we really have to take that as an opportunity," Herman said.
"[We] Need to keep promoting our products to people because there are many reasons why people should choose Yoggu! in another option. I think the most important thing is the probiotics in our products because that's what everyone needs. And it's easier to justify its price, especially since it's related to your gut health. "
community leadership
Herman also acknowledged responsibility for being named "Women Entrepreneur of the Year" from BC Food and Beverage.
She said she hopes to use the honor to encourage future female leaders in the industry.
"There aren't many people like me in this space. So I think, being a normal person every day, you know, can really provide some kind of inspiration for other people trying to get started, whether it's in business or In general…I do think food is an important vessel to change this world. I will continue to do what I can to continue to inspire the next generation."
Likewise, Soul Bite Food was recognized at the BC Food and Drink Awards Night.
The Coquitlam startup has won the Society's 2022 Sustainability Award as a leader in "Environmental Passion and Dedication."
Soul Bite donates 50% of its profits through the company's charitable organization, the Immigrant Linked Centres Society (ILCS), to fund projects in the Greater Vancouver area that work to fight hunger and reduce food waste around the world.
The company is represented in 15 different countries and uses traditional cooking methods to bring its vegan plant-based appetizers to the shelves of local stores.