At the end of every Premier League weekend, BBC football pundit Garth Crooks is ready to present you with his team of the week.
But who has he chosen this time? Take a look then choose your team. As always, Garth will have his say on the highlights of the game on The Crooks of the Matter.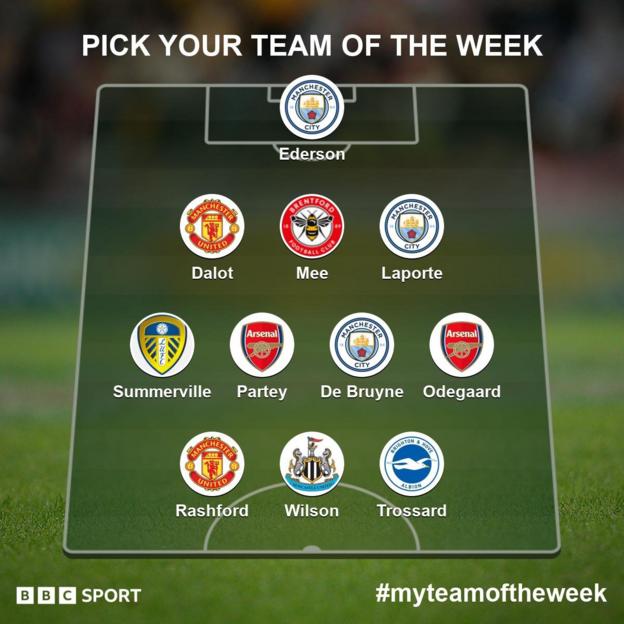 Ederson (Manchester City)
Before I go any further, I will state that there are many goalkeepers in the modern era who I think are very average. It might have something to do with the fact that I grew up in the era of Gordon Banks, Pat Jennings, Peter Shilton, Ray Clemens, Joe Corrigan, Phil Parks. I could go on
Most goalkeepers today punch the ball when they have to catch it and try to catch it when they have to punch it. Ederson, Alisson and David de Gea are exceptions.
Ederson, like all goalkeepers, can make the odd mistake or underperform, but he wins more games for his team than he loses. His Leicester save from Youri Tillmans on Saturday was another classic example.

Diego Dalot (Manchester United)
The longer this game went on, the more Manchester United had to play against a determined West Ham. I don't like witch hunts and Harry Maguire has had a lot but he's kept his cool. He proved himself against the Hammers, as did Lisandro Martinez, who provided another star, and his style of play reminds me of former Scotland defender Martin Buchan.
David de Gea played his part, although I expected a goalkeeper of his class to make all his saves. The real star of the show was Diego Dalot. If there was going to be a header, he made it. He defended in very difficult situations at times. United are now just one point off the top four and are looking like a decent team again.
Ben May (Brentford)
Ben May's goal against Wolves deserved credit, which is why he's my pick. Defenders sometimes inspire moments in the box and May's finish was as deliberate as it was brilliant. Why May got into a fight with Diego Costa after that is another matter. Costa has a reputation for being volatile, so he knew what he was getting into.
Costa's header on May's face was asking for trouble, but the Brentford centre-back's fall looked like a flimsy rock. If a central midfielder wants to take part in a battle, by all means do it, but do it with dignity.
Aymeric Laporte (Manchester City)
I often thought that Aymeric Laporte was Ruben Dias' junior partner – well, not anymore. With or without Dias in his side, Laporte has become a very reliable defender for Manchester City. It took some time for the Spanish player to find his feet in a team that does not have a passenger. He now looks like the real deal and was instrumental in City's clean sheet against the very dangerous Leicester City. With the selection of Laporte, Dias, John Stones, Nathan Ake and new star Manuel Akanji, they look almost impenetrable.

Christiano Somerville (Leeds)
Boy, did Leeds need those three points. Nobody expected them to get them at Anfield, but not only did they get them, they deserved them. Criscencio Somerville's confidence had an effect Liverpool never expected. The 21-year-old Leeds midfielder could not have had a better birthday present than scoring the winning goal.
Liverpool have dropped 19 points in the league so far this season, and the fact that they dropped just 22 points in their entire campaign last season should tell us something.
This team has played some pretty awful football over the last three years and the new boys haven't had the impact that some had hoped for, especially after the departure of Sadio Mane.
Thomas Partey (Arsenal)
Thomas Partey has been in superb form for the Gunners this season, but often finds himself playing second fiddle in my selections to the likes of Granit Xhaka and Martin Odegaard. Well, not against Nottingham Forest.
The Ghana international was his usual resilient self but added a wonder goal to his brilliant performance. To be fair to the player, he has scored goals like this before.
Partey has the power and flair of former Arsenal legend Peter Story and the running power of David Price. Arsenal fans of a certain age know exactly what I'm talking about.
Kevin De Bruyne (Manchester City)
Manchester City seem to be one of the few clubs who have coped with the demands of Champions League football and looked great at the same time. Chelsea lost, while Liverpool suffered a heartbreaking home defeat. Of course, none of their teams have Kevin De Bruyne in their team.
The best player in the world at the moment took a free-kick with such venom that it kissed the post and crashed into the back of the net with Leicester goalkeeper Danny Ward still hanging in the air trying to tap it. It's time for this greatest player in the Champions League to win the Ballon d'Or.
Martin Odegaard (Arsenal)
Nottingham Forest came into the ground at Arsenal with a bump after beating Liverpool last week. The Gunners passed Forest by five goals and it could have been 10 goals. At one point it looked like Arsenal were creating chances at will.
Martin Odegaard was walking around the Emirates Stadium doing most of Arsenal's attacks and looking very cool and cultured while doing it. The victory put Arsenal back at the top of the table with two games to go before the end of the World Cup break.
With any luck, that should break their momentum.

Marcus Rashford (Manchester United)
Scoring 100 goals for Manchester United is a big deal. Marcus Rashford has worked hard in recent months to secure a permanent place in the United team ahead of Cristiano Ronaldo.
Against West Ham, Rashford looked like a player who has not only worked hard but has regained his confidence.
The question now is whether Gareth Southgate can trust the striker – should he be included in England's final 26-man squad – to produce the goods for his country? He is a brave man to leave her.
Callum Wilson (Newcastle)
If you had any doubts about Newcastle United's performance against Tottenham last week, you can rest assured that it wasn't by accident after they completely destroyed Aston Villa at St James' Park.
Callum Wilson scored in both games and looks set to fit in well for Eddie Howe's side.
This latest win takes the Magpies into the top four and they have done it with minimal fuss – which speaks volumes for the character of their manager. I've never seen Wilson as a top-four striker, but that's where his team is right now and I wouldn't bet on them staying in this form.
Leandro Trussard (Brighton)
There appears to be a suggestion that Graham Potter will apologize to Brighton fans for abruptly leaving the Amex Stadium for Stamford Bridge. Apology – for what? Brighton fans should consider themselves very lucky to have had Potter for as long as they did. It was well known in football circles that he had rejected a number of offers before succumbing to Chelsea's lure.
The problem for the Seagulls now is whether they can lock down Leandro Trussard, who destroyed Chelsea and was a huge upset for Potter on his return to his old club. It's not unusual for good players to be at bigger clubs – or for that matter, managers.


Topic scammers
I see the Socceroos released a collective statement against Qatar's human rights record, becoming the first 2022 World Cup team to do so. This video message criticizes the treatment of the World Cup hosts towards migrant workers and LGBTQ+. If Australia's treatment of Indigenous Australians over the years had not been so appalling, I would have found this announcement far more compelling.
The Aussies have qualified for the World Cup, but I would suggest that if they are very unhappy with the way their country is being run by the Qataris, I can make a humble suggestion – don't go!
In fact, boycotting the World Cup and not playing would be a much bigger statement and confirm their belief far more than just lying. After all, they're not going to win the tournament, so why go if you're thinking about it that much?
Choose your XI from our list and share with your friends.