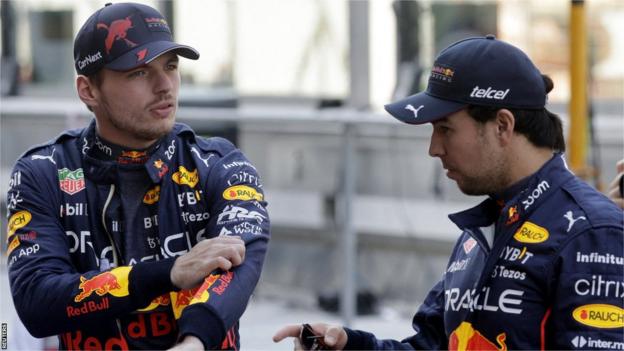 Max Verstappen says some of the reaction to his role in the Red Bull team orders controversy in Brazil has been "unacceptable" and "disgusting".
World Champion Rejected Red Bull's order He allowed team-mate Sergio Perez to get away on the final lap of the São Paulo Grand Prix last weekend to earn points in his fight for second place in the championship.
Verstappen said: "After the race, I looked really bad in the media. But they didn't have a clear picture.
"To put me down like that right away is ridiculous. Everything I've read is so disgusting.
"They started attacking my family, threatening my sister, my mother, my girlfriend, my father. And to me it's so far-fetched when you don't even have the facts of what's going on. And you definitely have to Do it. Stop.
"If you have a problem with me, that's fine, but don't go after my family because that's unacceptable."
Verstappen initially appeared to be referring to reactions to the incident on social media, but then said after the race that he had taken issue with some of the media reports.
"A lot of people have written about me, it's ridiculous," he said.
"At the end of the day you're contributing to all the problems social media has by writing these kinds of things.
"It's very disappointing to read these kinds of things. I know how I am and the team knows how I work and I've always been good with the team."
He added: "As soon as there's something negative that needs to be highlighted, it's very sad to be a part of it. While at the end of the day I've done nothing wrong, it's just that people have misunderstood what happened. "
Verstappen said after the race in Brazil that he had "reasons" to refuse Perez back to the front, reacting to "something that happened in the past".
There are reports that Verstappen believes Perez deliberately crashed at the end of qualifying at the Monaco Grand Prix, which prevented Verstappen from completing his final lap which would have given him a front row position.
As it was, Perez and Verstappen finished third and fourth, and the Mexican won the race.
A number of sources have told BBC Sport that Red Bull investigated the incident after the race and that Perez has admitted that he crashed on purpose.
But Perez dismissed the claim as "false", adding: "It's just speculation and people make rumours. We're all aware of what's happening and we want to keep it in the team. "
Verstappen again refused to explain his reasons for his actions in Brazil, saying it would "be between me and the team", but he admitted that Red Bull had made mistakes in their handling of the weekend's race.
"It was about something that happened earlier in the season," he said. I already explained in Mexico and the team understood and agreed.
We went to Brazil and I thought we were just going to race and get the best possible result. We had a miscommunication on Saturday and Sunday. I wasn't told anything about a possible replacement or anything else. In the last round that was said on the radio.
"And they must have known my answer already from what I said last week.
After the match, we had a good discussion and put everything on the table and everything was resolved.
"In hindsight, we should have had that conversation sooner. I've never been a bad teammate, I've always been very helpful. The team knows that. I always put the team forward because it's a team thing at the end of the day. What we learned is That we need to be a little more open and we just need to communicate better."
However, Perez said that the post-match conversation in Brazil only focused on the day's events.
Asked how long Verstappen had been troubled by his past actions, Perez said: "I don't know how long. We haven't talked about it."
Red Bull issued a statement on Thursday admitting that "mistakes were made in Brazil" and that the team "accepted Max's reasoning".
The statement added: "Max was only informed at the tail end of the request to withdraw from his position without sending all the necessary information. This puts Max, who has always been an open and fair team player, in a compromising position with little time to spare. A reaction that was not our intention."
Dash cam footage showed Verstappen first asked to let Perez into sixth after turn four on the final lap, and again three times as he exited the final corner.
Early in the race, Perez was told to "don't fight Max" when the race restarted after the final safety car period so he could pass the cars in front.
Verstappen moved ahead of Perez but failed to overtake the Alpine's Fernando Alonso for fifth and was told: "If we don't get past Fernando at exit 12, can we get Checo out, please let Checo again come in."
When he did not comply, they asked him: What happened?
"I told you guys again before, don't ask me that again. Okay? Are we clear on this? I've given my reasons and I stand by them," he replied.